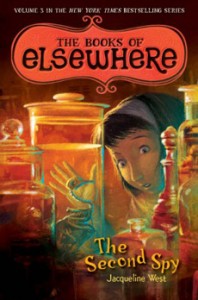 The Books of Elsewhere: The Second Spy (Volume 3)
Author: Jacqueline West
Publisher: Dial Books of Young Readers
Website: http://www.jacquelinewest.com/
Review:
I will just start out saying I (again) liked this book just as much as the first two.
This continues the adventures of Olive Dunwoody. Morton is starting to get stir crazy while waiting for Olive to locate his parents, so he makes a deal. If Olive cannot find his parents in three months, he gets to come out of the painting of Linden Street and live in the real world. Olive accepts the deal, but soon realizes she has no clue where Morton's parents may be. After a series of events (I refuse to type any spoilers), Olive comes across some things that might just help her and Morton.
The writing is very consistent with the other two books, they keep the same pace and style, which I like. I like that these books have some humor, as this part of a paragraph (I cut out the spoilers) shows:
"Of course, they probably wouldn't have looked surprised if she had cartwheeled across their floor, shooting grape jelly from her toes and singing "The Star Spangled Banner" backward."
Now that leaves a lot of questions for people who haven't read the book.
In my opinion, this book was a bit eerier than the last two, but still kept the overall tone of a middle-grade book throughout.
Again, it does include enough recaps so that someone who has not read the two previous books, could probably understand. Though I do strongly recommend reading them in order. So, in conclusion, I loved this book, I love this series, and I would strongly recommend these books.