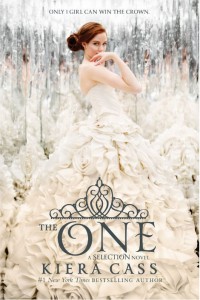 The Selection Series: The One (Book 3)
Author: Kiera Cass
Publisher: Harper Teen
Website: http://www.kieracass.com/
Review:
The first thing I want to say is that I stayed up late finishing this book because I had to know how it ended. Many times I closed the book and debated if throwing it against the wall would help ease the anger and embarrassment that I was feeling for the characters.
Now, I mean all of this in the nicest way possible, because those are some of the things that made me love this book. I don't think there has ever been a book that made me feel so strongly what the characters were feeling. This book made me feel like I was right there next to some of the characters.
I also would like to apologize for not reviewing the first two books, I read them a while ago so I didn't feel confident reviewing them.
Okay, so now that I got that off of my chest, other things about the book.
This series follows America Singer, a 17 year old girl in caste 5. (1 being the best and 8 being the worst caste to be in) Every time a prince in their province (Illia) comes of age, a Selection contest is held. Girls from all castes submit forms for a chance to be 1 of the 35 selected. When the girls are selected and taken to the palace, the prince has to slowly narrow down the girls until he has 6, those are the Elite, and that is when he starts debating who to choose as his bride. When he narrows it down to 3, he is expected to pick. (Like The Bachelor with a prince).
America wants nothing to do with this, as she is already in love with a caste 6 named Aspen. After he breaks up with her to get her to submit a form, she enters the competition and gets Selected. Little did she know she would make it this far.
In this book, tension rises as the Prince (Maxon) has narrowed it down to 5, and is expected to pick soon.
One thing I did not like about this book was some parts near the end. They were very fast paced – a bit too fast, and everything just resolved too quickly. Other than that I have no complaints. I did like the very ending, though.
This book was well written and had a nice flow, but really the thing that made me love it so much was the empathy, as mentioned previously.
I really have nothing else to say other than if you liked the summary up there, you should definitely pick up this series, and overall I would probably give it 4/5 stars.
-Emma Ellisor