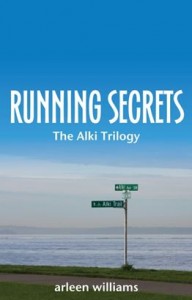 Title:  Running Secrets (The Alki Trilogy)
Author:  Arleen Williams
Website:  http://arleenkaywilliams.blogspot.com/
Publisher:  Booktrope
Review:
Perhaps in my daily diet of fiction I've become too accustomed to the customary formula of a fiction novel.  So much so that while reading Running Secrets I kept looking around every literary corner expecting the next variable in the formula to plop in front of me. When I was cringing with the expectation of fictional ugliness to pop out of the closet, I was pleasantly surprised to find that it didn't happen.
Running Secrets is a book of hope.  It could almost be left at that. In today's literary world of bad guys and formula fiction, this story stands on it's own without pretense as a story of a person's journey to happiness.  We watch as the main character, Chris Stevens, goes from a suicidal train wreck to a happy, well adjusted, young woman.  Along the way we learn of her family drama and the legacy of a dead sister that haunts her every step.
Arleen Williams is one of a growing number of authors that are taking on multicultural issues in fiction literature.  The story is smattered with different views of the characters biracial origins in both negative and positive ways.  If you're a reader that's into cultural issues or has a biracial origin, then you'll certainly find something to relate to.
There are two things that really stand out in the story.  The first and best is the characters.  There are some books where you can actually hear the characters speaking in your head.  Perhaps it's the cultural aspect of the story that really makes the tone stand out.  For example, Gemli the home health care nurse is Ethiopian with a muslim background.  Her accent seems to carry into the dialogue without the author actually changing any words to make that happen.
The second is the setting.  You can tell that there is a special place in William's heart for the Seattle area.  The descriptions of the areas and the beauty of the mountains makes you want to take a trip to Washington State just to see it.  If the Northwest is your haunt, or you dig the Seattle scene, then this will stand out to you.
Which strikes me as odd, even as much as I like to read her descriptions.  No one ever writes about Houston in this manner.  Can you even write about Houston like that?
Overall it's a very touching story about one woman's trials in overcoming racial adversity.  It touches on issues that many can relate to, such as depression, suicide, and finding a path to healthy sexuality.  It also has an interesting story line about becoming a debut author that would appeal to many aspiring writers and perhaps give them inspiration for their next great work.
Bottom line:  A story of hope.  And that's enough!
– Don Ellisor