Author Jacqueline West, author of The Books of Elsewhere, graciously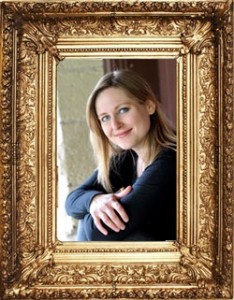 accepted my request to virtually interview her. Her books truly let your imagination run wild, and I would recommend them for any age — Really, I would recommend these books to anyone that wants a good fiction story. Now without further ado, the interview:
This is kind of a silly question, but how much research did you have to do on dinosaurs, wars, and the Middle Ages to develop Rutherford's character and dialog?
As a matter of fact, writing Rutherford's dialogue required more research than anything else in the books! My younger brothers and I were all a bit dinosaur-obsessed while we were growing up, and I used to work at a Renaissance festival, so I had enough material to start building his character… but because Rutherford considers himself an expert on the Middle Ages (and a semi-expert on dinosaurs), I wanted to check all my terms, facts, and dates before putting words into his mouth. And I'm glad I did, because sometimes facts I thought I knew turned out not to be so factual after all. For example, the Brontosaurus—which I almost had Rutherford mention in Volume Five—never really existed, but was just a misidentified Apatosaurus. Rutherford would NEVER have made such an embarrassing mistake.
In a few book series' I have read, the books kind of go downhill after the first book. But I didn't see that in The Books of Elsewhere. How did you keep up the quality of your books even after the debut book?
Oh, I'm so glad you felt this way. Once Volume One: The Shadows was released, and I knew there were readers out there waiting to find out what happened next, I felt a real responsibility to make each volume as strong and satisfying as possible.
Several things helped me to structure the series. First, my editor and I decided pretty early in the process that there would be five volumes in total, so I knew exactly how much room I had to tell the story. Next, I tried to think of the series as one long arc, with each individual volume containing a smaller mystery of its own that would get solved within that book while simultaneously adding to the overarching story. Also—and maybe this is the most important factor—I started writing the book that would become The Shadows when I was still a college student. It took me eight years to finish it, revise it, and have it published, so by the time I started the next book, I'd had a lot more experience as a writer.
I know that you are quite busy at the moment, but will there be any other books to look forward to?
Absolutely! I'm currently wrapping up revisions on a YA novel that's very different from The Books of Elsewhere but that's also being published by Dial/Penguin Random House; it should be coming out next winter. I'm also getting started on a new middle-grade fantasy/mystery series about a small boy, a big city, and a very unusual collection. I can hardly wait to see where it leads me.
What is your favorite part about writing stories and poetry?
Just one favorite part? I love so many things about writing: the daydreaming, the note-scribbling, the moment when ideas suddenly click together like puzzle pieces and the story or poem begins to form, the way the characters start to feel so real that they practically speak and move on their own, finding the perfect word or phrase or simile, revising until all the rough spots are rubbed away… There's nothing I would rather be doing.
Did the origins of the story start with a love of writing or painting?
Actually, I think it was a love of other people's writing that gave this story its origins. Growing up, I was never bold enough to think of myself as a writer (or even a future writer), but my identity as a reader transformed my whole world. I was certain that there were wondrous, magical, mysterious stories hidden just beneath the surface of everything I could see: behind the closed doors of old houses, down rickety basement stairs, inside locked jewelry boxes. There was one strange old house in my hometown that I found especially fascinating—a fading Victorian mansion owned by an eccentric inventor—and that house, with all its potential stories, fixed itself in my mind when I was in sixth grade. That house was still waiting in my mind ten years later, when I started creating a story of my own.
Do you feel like any of the characters reflect you personally?
None of the characters is very much like me, not even Olive—although there are elements of me in each one. When the characters started to develop identities all their own, I knew I was on the right track, writing-wise. That said, I've got an almost embarrassing amount in common with Harvey, the delusional attic-dwelling cat; I spent a lot of my childhood trailing around the house in makeshift costumes, pretending I was someone else (although, unlike Harvey, I never painted myself green).
How do you think the story would have changed if Olive didn't realize that the painted Horatio was an imposter?
Everything could have changed if Olive didn't realize the truth. The painted Horatio is loyal to the McMartin family, and he might have managed to trap Olive and her parents inside Elsewhere, or to free the younger, painted version of Aldous McMartin, or to cause some other kind of chaos.
I have never read anything like your stories, what lead you to write about witches and magical worlds within paintings?
Thank you! I try to write the kind of stories that I would want to read. Many things that fascinate me—magic, family, animals, art, old houses, other worlds—are woven into these books.
As for Elsewhere, the enchanted world within Aldous McMartin's paintings…I think that came from another of my childhood daydreams. I liked to imagine the stories behind the paintings that hung in my grandparents' house. I'd give names to the people in the pictures, and I convinced myself that they were just holding still while we were in the room, and the moment we left, they would all come back to life. That's probably where Elsewhere began.
Were there any authors (or people) that inspired you to write The Books of Elsewhere?
I'm a writer because I love to read. When I started work on The Shadows, I was trying to write something that my brothers and I would have liked when we were growing up. We loved books that were creepy and funny at the same time, and that were full of mysteries and unexpected magic—books like the Bunnicula series, and The Hobbit, and Calvin & Hobbes, and everything by Roald Dahl. All of those authors—James Howe, J.R.R. Tolkien, Bill Watterson, and Dahl—inspired me, and, in another way, my brothers inspired me too.
And lastly, do you have any advice for aspiring authors?
Read like crazy. Write like crazy. Repeat.
Thank you, Jacqueline, for taking the time to answer my questions, and good luck in the rest of your writing career. It was really great getting to talk to you, and I look forward to reading your upcoming books.
-Emma Ellisor